Stripes on the caps and black spots are originated in 90% of the cases from the hotrunner.
With Ultra Plast PO-C or PO-CS there will be a drastical decrease of scrap production.
SCREW CLEANING
The first operation to do is to clean the screw.
The old materials and masterbatches deposits on the screw, generating stripes and black spots.
WHY IS IT BETTER TO CLEAN ALSO THE HOT RUNNERS?
The hot runners are very often full of deposits of old plastic and masterbatches.
It can happen that during the first purging Ultra Plast remove colors which have been processed months before.
Furthermore,by removing old deposits all metal surfaces will be clean and blank.

CLEANING SCREW AND HOTRUNNER WITH ONE PRODUCT ONLY
ULTRA PLAST PO-C and QUALIPURGE PO-CS clean both, screw and hot runner.
You will have only one grade of purging compound, avoiding confusion and reducing stock of purging material.
STACK MOLDS AND THIN WALL
Many mould makers are building moulds in order to save material by reducing more and more the thickness of plastic items.
We developed a special material for this kind of moulds.
QUALIPURGE PO-HCS will fill completely the cavities without increasing injection pressure. In this way, pieces can be extracted with the robot, and the cleaning procedure will be easier.
Sample request - Injection molding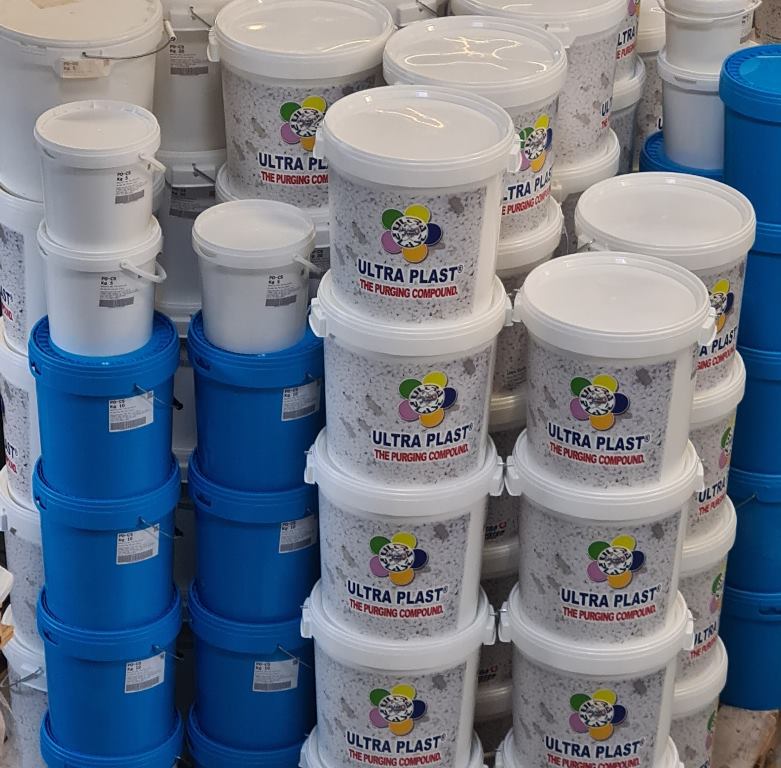 Do you want to try
ULTRA PLAST?
A full range of products for the cleaning of screw, barrel and hot runners.
All Ultra System products are safe for hot runners.
Filling the sample request we can suggest you the right product and the right quantity for your injection molding machine.