FAQ
Frequently Asked Questions
1.How much Ultra Plast is needed for each purge with Injection Molding Machine?
The amount of Ultra Plast needed is from one to twice the barrel capacity. Load Ultra Plast into the machine until you see it coming out from the nozzle. For the first cleaning you have to use probably the double amount in order to remove all the old burnt material/masterbatch rests.
2. Does Ultra Plast leave any trace after purging?
No, Ultra Plast does not leave any residue because it does not stick to any kind of metal surface. Ultra Plast is generally considered to be a low-residue purging agent, making it suitable for most purging applications. Also the most difficult application, such as cleaning of transparent PC , does not leave any milky shadow with the new ULTRA PLAST HIGH-C.
3. Is it safe to purge hot runners with Ultra Plast?
Each Ultra Plast grade is safe for hot runner, but we suggest to use the specifically designed HS and C grades. The cleaning of hot runner systems can be made either by molding our purging compound or by purging through open mold. If you have any doubt, contact us and we will supply you with the best solution and procedure.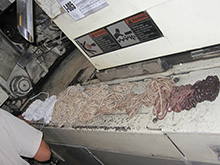 The quantity of purging compound depends mainly on three factors:
- diameter and L/D of the screw
- conditions of the machine
- type of polymer and masterbatches
4. Are there any abrasive components in Ultra Plast?
No, Ultra Plast works on a not toxic chemical base, and it's safe for all machine parts.
5. What types of plastic processing machines will Ultra Plast work on?
Ultra Plast can be used for purging all thermoplastic resins in injection molding, extrusion, blown film and blow molding applications.
6. Will Ultra Plast remove carbonized residual in screw, barrel, hot runners and head?
Yes, Ultra Plast is efficient for the removal of carbonized material. When the carbon deposit is very old and thick, you will obtain a good result after two or three purging operations.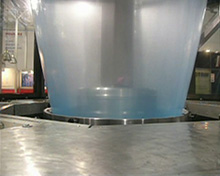 ULTRA PLAST BF

Using the new ULTRA PLAST BF, you can clean your blown film machine with the bubble running.
7. Are there any concentrated grades of Ultra Plast available?
We can supply the concentrate for applications like blow molding and blown film (PE and PP): to obtain the best purging performance, you have to mix the concentrate with the correct grade of PE. The "ready to use" grades, already prepared in our production sites, will give you the best results.
8. What should I do with the Ultra Plast scrap?
The purging scrap can be regrind and re-used as a normal polymer in your production for dark or second choice parts considering that the purge might contain black spots, carbonized plastics and old burnt material.
9. Is Ultra Plast food contact certified?
Yes. Ultra Plast is food contact certified according to the FDA and European food regulation (CE 2002/72 and 10/2011). Certifications for each application, from toys to food, cosmetic pharmaceutical, and medical, will be supplied on request. All materials used in Ultra Plast are GRAS (Generally Recognized as Safe) and each single component is checked by our laboratories.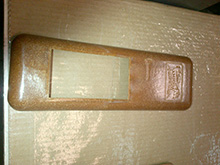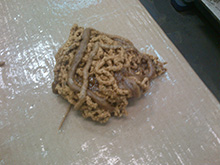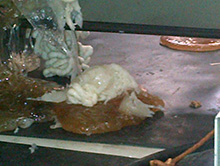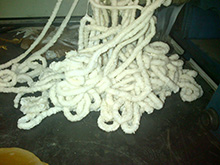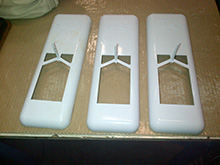 Purging the WPC in a fast and easy way, another application of the PO-C.
10. How do I know what grade of Ultra Plast to use?
On our website and in our leaflets are described the applications for each product, as well as working temperatures and types of machine. Our products are specifically and individually designed, developed and produced, according to each polymer and each type of machine, in order to guarantee the best result with the minimum of purging compound, we supply, on request, a detailed table to choose the best grade for each application. Please feel free to contact us for online support and assistance.
11. Can I mold parts with Ultra Plast?
All Ultra Plast grades are moldable and can be safely injected into the mold without damaging the polished or finished surfaces of the mold. In certain applications it may occur that by molding Ultra Plast, there will be a short shot. This is due to the fact that the Melt Index of Ultra Plast is slightly different from the resin's that you were molding previously. If molding a short shot causes problems to your processing, please call our technical support. We can supply ULTRA PLAST customized products according to your specific requests and needs.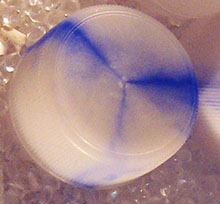 Stripes
This picture is a typical example of the so called "mercedes stripes" in caps production.
The screw is clean: the stripes originate from the hot runner.
This issue can be easily solved with PO-CS.
12. Do you have any grades designed for thin wall container stack mold applications?
-HS grade, -C grade and -CS grades (except PO-E-CS) are the recommended grade to clean hot runners system in stack mold application with no valve gated hot runners.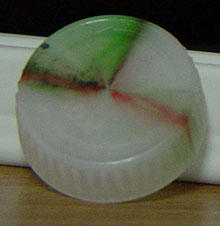 Color change
Here a color change from red to natural with PO-C: the hot runner was still contaminated with green color which had been produced more than one month before.
13. Does Ultra Plast create any harmful smoke or smell?
No. In the past chemical purging compounds were associated with bad smell and fumes . Ultra Plast's revolutionary technology allows to achieve a good cleaning without releasing any smoke or smell. Ultra Plast can be safely used in clean rooms .
14. How long of soak time is needed?
Ultra Plast is a chemical purging compound that, thanks to the innovative formulation, does not need any soak time, in order to achieve a cleaning operation as fast as possible , as "time is money".
15. Shall I use a normal shot size while purging?
We suggest to reduce the shot size and purge with short shots. To obtain the best cleaning effect set backpressure from 8 to 10 bar (hydraulic). If the screw cannot load the material at this value, reduce it step by step.
16. Is it better to purge the hot runners with open or closed mold?
Both procedures can be used to clean the hot runners but by molding the purging compound you will achieve better results. For any question please feel free to consult our technical staff.

Stripes
Also in this case the stripe originates from the hot runner. Using either PET-C or PET-CS eliminate this issue.
17. How many time and money can I save if I purge with Ultra Plast?
It depends on the machine type, on its mechanical conditions, type of resin to be cleaned, etc. By using properly and regularly Ultra Plast, production costs may be reduced by 20 to 80%.
18 . Is Ultra Plast easy to use?
Ultra Plast is extremely easy to use. We recommend to follow our purging procedures in order to achieve the best result.
19. Is Ultra Plast liquid or in pellet form?
Ultra Plast is a chemical purging compound in pellet form. Ultra Plast is a mechanical mixture of resin and active part, suitable for all kinds of colors: masterbatches, liquid colors and already colored plastic materials. We can supply, for who prefer the liquid purging, our LP grade.
20. Is there any concern regarding Ultra Plast reaction with any of the materials I process?
Ultra Plast is a purging compound based on styrene or olefin carriers. The active part too has been studied in order to avoid any possible dangerous or undesired reaction. There are no worries that Ultra Plast can react with any processing resins, additives or colorants.